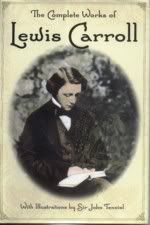 Éste fue el primer libro que tuve en EE.UU., y fue un regalo. Sin duda, los libros que hemos leído en nuestra infancia y adolescencia son aquellos que más profundamente nos marcan; quizás porque el espíritu y el intelecto de un chico sean una arcilla blanda, aún sin forma propia, maleable, lo cierto es que las huellas que esas páginas dejan en nosotros difícilmente se borren.
No voy a criticar aquí, como suelo hacer con los libros que voy leyendo, el libro cuya tapa ven más arriba (tampoco estaría en condiciones de hacerlo, aún si quisiera, cuando en la tapa se lee "Obras Completas" quiere decir exactamente eso. Este volumen contiene desde los dos libros de Alicia hasta los trabajos de lógica pasando por la poesía de Carroll), sino que simplemente quiero recordar a Lewis Carroll en el día de su nacimeinto. De hecho, hoy Carroll cumpliría 107 años.
Para quienes disfrutamos (y a veces lo seguimos haciendo) de las páginas de Charles Lutwidge Dodgson aquí les dejo uno de sus clásicos.
Sí, ya sé que está en inglés, pero también les dejo un enlaze a algunas traducciones, y digo algunas porque la traducción de este poema en particular ha acarreado cientos de análisis, notas, comentarios, opiniones, etc. Y lo seguirá haciendo, sin duda. ¿Cuál de todas les gusta más?
Jaberwocky
By Lewis Carroll
'Twas brillig, and the slithy toves
Did gyre and gimble in the wabe:
All mimsy were the borogoves,
And the mome raths outgrabe.
"Beware the Jabberwock, my son!
The jaws that bite, the claws that catch!
Beware the Jubjub bird, and shun
The frumious Bandersnatch!"
He took his vorpal sword in hand:
Long time the manxome foe he sought-
So rested he by the Tumtum tree,
And stood awhile in thought.
And, as in uffish thought he stood,
The Jabberwock, with eyes of flame,
Came whiffing through the tugey wood,
And burbled as it came!
One, two! One, two! And through and through
The vorpal blade went snicker-snack!
He left it dead, and with its head
He went galumphing back.
"And hast thou slain the Jaberwock?
Come to my arms, my beamish boy!
O frabjous day! Callooh! Callay!"
He chortled in his joy.
'Twas brillig, and the slithy toves
Did grye and gimble in the wabe:
All mimsy were the borogoves,
And the mome raths outgrabe
Traducciones